Please report any broken links in this site to brewer@island.net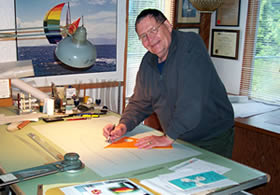 Welcome to the Internet home of Ted Brewer Yacht Design. On this site you will find information about the services available from Ted Brewer, ranging from consulting with you on your next yacht purchase to the many designs we have available for building.
Ted Brewer is a lifelong sailor with over 260 designs to his credit. Many of these designs are available as stock plans for either amateur or professional construction. On this site you'll find descriptions of many of these plans.
Ted Brewer no longer does custom designs. For stock plans you will find over 100 different Ted Brewer designs on this site.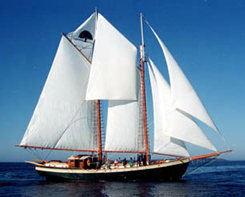 Brewer designed Schooner "Tree Of Life", named one of the worlds 100 finest yachts by SAIL magazine
Owner's sets, especially of production boats are available for purchase, for repairs, re-fits, general information or the construction of models. These include sail plan, layout, deck layout, construction drawing, hull lines and various detail drawings. Complete sets are available for most Brewer designs, although the sets of production vessels may be less complete, and some production vessels may have design changes made by the builders without consultation with Ted. Please contact us for prices, as they vary with the number and size of the drawings. With a very few exceptions these are drawn by hand and are quite detailed. Signed prints of the original drawings, especially of layouts hull lines and sail plans, are suitable for framing and are available either full sized or reduced to fit your needs.
Production boats by Ted Brewer include designs built by Aloha, Aragosa, Cabotcraft, Cape Yachts, CCC, Constellation, Douglas, Goderich, Fort Myers, Hullmaster, Huromic, Jason, Kanter, Mao Ta, Mariner, Morgan, Murray, Nimble, Pan Oceanic, Olympic, Ouyang, Union, and Whitby. This includes individual designs such as the Lazyjack, Rob Roy, and Quickstep.
Brewer Yacht Designs
1825 Evergreen Drive
Agassiz, BC
Canada VOM 1A3
Phone 604-796-3732 Fax 604-796-3738
brewer@island.net