DEER ISLE 24 Specs

LOA---24' 1"
LWL---21' 5"
BEAM---9' 11"
DRAFT---2' 2"
DISPLACEMENT--- 4450 lbs
DISPL/LENGTH RATIO--- 202
PRISMATIC COEFF---.714
FUEL TANK--40 gals
DEER ISLE 24
An 24' Planing Power Boat
Brewer Design #44
DEER ISLE 24 was designed as an easily built and inexpensive day cruiser and weekender. She comes in 3 versions; utility (with optional cruising accommodations), sports fisherman, or workboat.
The DEER ISLE is of all plywood construction on widely spaced frames with longitudinal stiffeners. Fasteners are largely glue and barb nails; an ideal construction method for the amateur builder or small shop.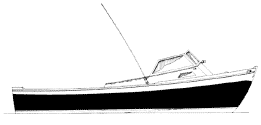 click drawing to see larger image
The hull may be covered with Vectra or similar synthetic if minimal maintenance is desired.
The 24's hull is a development of the very successful DEER ISLE 28 and is intended for rough water work.
Some out-and-out speed has been sacrificed in order to obtain deep, non-pounding bow sections but, nevertheless, she will get up and move when necessary.

click drawing to see larger image
Speeds of 30 mph are obtainable.
Power may be inboard diesel or gas engines up to 150 hp, giving a wide choice of economy or performance. Both stern drive and conventional inboard engine installations are shown on the plans and we can provide drawings for outboard power if desired.

click drawing to see larger image
The interior layout is simple. All models feature a toilet room forward for convenience, along with generous storage space. The utility model has good weekend accommodations for two persons as well and makes a very versatile boat for a small family.
Study Plans: $30 US
Complete Plans: $175 US
Study plans contain sufficient drawings to price out materials or obtain a professional bid; the cost of study plans is credited if complete plans are later ordered. Complete plans include rights to build one boat, plus reasonable consultation during construction.
---
---
Brewer Yacht Designs
1825 Evergreen Drive
Agassiz, BC
Canada VOM 1A3
Phone 604-796-3732 Fax 604-796-3738
brewer@island.net