DEER ISLE 37 Specs

LOA---36' 9"
LWL---34' 1"
BEAM---12' 0"
DRAFT---3' 8"
DISPLACEMENT---19000 lbs.
DISPL/LENGTH RATIO---214
TANKS---70 gals. Fuel, 20 gals. Water
DEER ISLE 37
A 37' Vee Bottom Long Range Cruiser
Brewer / Wallstrom Design #54
The Deer Isle 37 is a husky cruiser designed for long range comfort, operating economy and seaworthiness. Her construction is of seam-batten planking on heavy sawn frames providing ease of construction, durability and a tight hull without the need for caulking. Decks and cabin truck are of plywood construction, fibreglass or Vectra covered. A small boatyard, or a competent amateur craftsman, will encounter no difficulties in building her.
Power may be a single diesel engine of 75-160 HP or twin engines each 75-125 HP, providing cruising speeds from 8 to 14 knots as required. Fuel capacity of 180 gallons and water tankage of 150 gallons assure a large operating radius. The vee bottom hull is of the semi-displacement type with a displacement/length ratio of 214.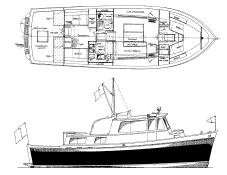 click photo to see larger image
The accommodations provide berths for five persons in three separate cabins and a sixth berth can be fitted if required. The galley and toilet facilities are quite complete and there is good storage space throughout the vessel.
The yachtsman who requires an able and comfortable coastal cruiser will find the DEER ISLE 37 to be well suited to his needs
Study Plans: $75 US
Complete Plans: $795 US
Study plans contain sufficient drawings to price out materials or obtain a professional bid; the cost of study plans is credited if complete plans are later ordered. Complete plans include rights to build one boat, plus reasonable consultation during construction.
---
---
Brewer Yacht Designs
1825 Evergreen Drive
Agassiz, BC
Canada VOM 1A3
Phone 604-796-3732 Fax 604-796-3738
brewer@island.net