SWAGMAN Specs

LOA---33' 9"
LWL---31' 6"
BEAM---11' 1/2"
DRAFT---3' 2"
DISPLACEMENT---11000 lbs.
DISPL / LENGTH RATIO---157
TANKS---105 gals. Fuel, 55 gals. Water. Additional if required by owner.
POWER---single or twin screw to total 300 bhp
SWAGMAN
A 34' Motor Yacht
Brewer Design #227
SWAGMAN's name comes from the famous Australian song about the wandering hobo who "camped by a billabong". SWAGMAN gives somewhat more than camping comfort though with her 3 separate cabins, 2 heads, stall shower and complete galley.
An unusual feature is the forward cockpit and walk around foredeck which will prove to be a popular spot in good weather. This deck is protected by high bulwarks and enables the helmsman to keep an eye on the guests, or children.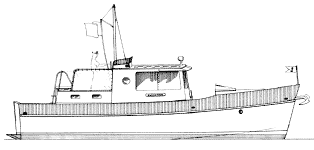 click drawing to see larger image
The steering station abaft the wheelhouse will be popular as well as it gives good all around visibility without the increased rolling motion of a high flying bridge.
The hull form features a high chine forward with convex bottom sections for soft riding in a chop. A built-in spray rail along the chine and well flared topside sections will keep the spray down where it belongs. Single or twin props are well protected by a deep skeg, which also ensures good directional stability.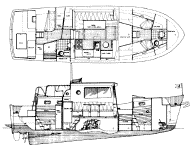 click drawing to see larger image
The first boat built to this design was powered with twin 120 hp diesels and achieved speeds in excess of 25 knots with an easy 20 knot cruise. Construction is of fiberglass and can be by any of the popular one-off methods, using rigid foam or balsa plank core, C-Flex, or similar methods. We will be glad to advise prospective builders, of course.
SWAGMAN's unique and attractive style, fine performance, soft riding hull and comfortable accommodations will make her a standout on any waterway or in any harbor she enters.
Study Plans: $60 US
Complete Plans: $795 US
Study plans contain sufficient drawings to price out materials or obtain a professional bid; the cost of study plans is credited if complete plans are later ordered. Complete plans include rights to build one boat, plus reasonable consultation during construction.
---
---
Brewer Yacht Designs
1825 Evergreen Drive
Agassiz, BC
Canada VOM 1A3
Phone 604-796-3732 Fax 604-796-3738
brewer@island.net