AMORETTO Specs

LOA---35' 4.5"
LWL---29' 9"
BEAM---12' 0"
DRAFT---4' 11"
BALLAST---6800 lbs.
SAIL AREA---690 sq. ft.
DISPLACEMENT---17250 lbs.
DISPL/LENGTH RATIO--- 292
SA/DISPL RATIO---16.8
PRISMATIC COEFF---.536
CAPSIZE SCREENING FACTOR---1.86
TANKS---42 gals. Fuel, 110 gals. Water
AMORETTO
A 35' Auxiliary Sloop
Brewer Design #193
This design was created for a knowledgeable Canadian owner who wanted a fast and seaworthy cruiser suitable for both live-aboard and extended voyages. She was designed to perform well in a wide variety of weather. A large skeg was fitted to assure good directional stability and the propeller is protected from pot warps and debris in an aperture.
The hull shape is the popular radius bilge form, which we pioneered in the early 1970s, and this type of hull has been built by many small shops without problem.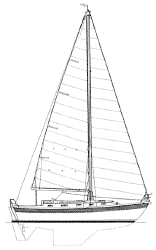 click drawing to see larger image
AMORETTO's construction was designed to ABS scantlings for offshore yachts and she was beautifully built in aluminum.
Closely spaced longitudinals on widely spaced athwartship frames assure a strong and fair hull.
The accommodations offer a spacious owner's cabin with double berth, a roomy saloon with U shaped dinette, a very workable galley, wide quarter berth, chart table and aft head. There is generous stowage throughout, as is necessary on a long range cruiser, and an extra large forepeak.
The tall rig spreads generous sail area and the double spreader mast is keel stepped for strength and supported by double lowers. AMORETTO will move along nicely in the lightest of airs but her long waterline and powerful hull will assure high potential speeds in a good breeze.
In general, AMORETTO is an all round design that will be at home on both coasts of North America, and equally at home crossing the Atlantic or Pacific oceans.
Study Plans: $65 US
Complete Plans: $695 US
Study plans contain sufficient drawings to price out materials or obtain a professional bid; the cost of study plans is credited if complete plans are later ordered. Complete plans include rights to build one boat, plus reasonable consultation during construction.
---
---
Brewer Yacht Designs
1825 Evergreen Drive
Agassiz, BC
Canada VOM 1A3
Phone 604-796-3732 Fax 604-796-3738
brewer@island.net