GREY GOOSE Specs

LOA---47' 7"
LWL---43' 10"
BEAM---13' 11"
DRAFT---5' 11"
BALLAST---13000 lbs.
SAIL AREA---990 sq. ft.
DISPLACEMENT---31700 lbs.
DISPL/LENGTH RATIO---168
SA/DISPL RATIO---15.8
PRISMATIC COEFF---.53
CAPSIZE SCREENING FACTOR---1.76
TANKS---150 gals. Fuel, 150 gals. Water
GREY GOOSE
A 47' Auxiliary Cutter
Brewer Design #216
This yacht was designed for an owner who required a fast auxiliary cutter suited for extended cruising with a small crew. Stress was placed on a comfortable pilot house for watch keeping in adverse weather. A settee-berth in the pilot house, above the midship cabin, allows the helmsman to have company while on watch.
Three guests can be accommodated in a roomy forward cabin plus a single berth midship cabin. There is good stowage throughout including a large forepeak, twin lazarettes and an unusual aft locker designed to accept a rigid bottom inflatable dinghy.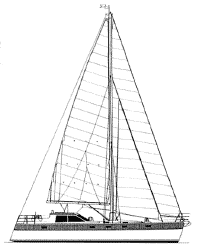 click drawing to see larger image
Construction is of aluminum with widely spaced athwartship frames and closely spaced longitudinals. The hull is of fully developed shape, not the radius bilge form often seen in metal yachts. The rudder is carried on a stout skeg with the propeller protected in an aperture instead of the spade rudder and exposed prop and shaft usually seen on yachts of this type. This gives additional directional stability, a stronger rudder, and a rudder less prone to stall when spun hard over in an emergency.
The rig is a quite conventional double spreader cutter. Running backstays can be set up to provide extra support in heavy weather and to keep the staysail stay taut. Sail area is generous but not overpowering as the long waterline hull, with its low displacement/length ratio, will be easily driven.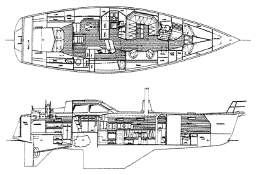 click drawing to see larger image
GREY GOOSE has lived up to her expectations as a fast and comfortable cruiser, well suited for coastal voyages or deep sea passages.
Study Plans: $95 US
Complete Plans: $1995 US
Study plans contain sufficient drawings to price out materials or obtain a professional bid; the cost of study plans is credited if complete plans are later ordered. Complete plans include rights to build one boat, plus reasonable consultation during construction.
---
---
Brewer Yacht Designs
1825 Evergreen Drive
Agassiz, BC
Canada VOM 1A3
Phone 604-796-3732 Fax 604-796-3738
brewer@island.net