CAPE MAY Specs

LOA--- 44' 0"
LWL--- 36' 6"
BEAM--- 13' 3"
DRAFT--- 5' 10"
BALLAST---10,000 lbs.
SAIL AREA--- 952 sq. ft.
DISPLACEMENT--- 26,600 lbs.
DISPL/LENGTH RATIO---244.2
SA/DISPL RATIO--- 17.0
PRISMATIC COEFF--- .565
CAPSIZE SCREENING FACTOR--- 1.78
TANKS--- 160 gals. Fuel, 200 gals. Water
CAPE MAY
A 44foot Auxiliary Cruiser
Brewer Design #148
The CAPE MAY is a custom design for a knowledgeable owner Who planned to circumnavigate the globe with his family. Construction is of Airex cored fibreglass and uses a thicker than usual core plus foam in all accessible areas to provide full floatation in an emergency.
The hull features good deadrise to give an easy motion in a seaway, along with a well developed bustle to permit high speeds to be maintained in ocean breezes. The long fin provides for ease of haulout and large skeg/rudder will assure directional stability and an easy helm. The displacement is moderate but still sufficient to assure safety in extreme conditions and, along with a good ballast ratio, a stiff hull. This is no lightweight!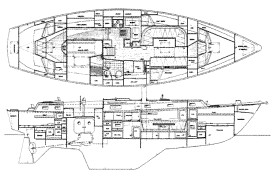 click drawing to see larger image
The accommodations provide six permanent berths in three separate cabins and there is good stowage throughout. The amenities include a large galley for the chef, a spacious nav area, a roomy head with separate stall shower and a work bench in the passage aft.
The engine room is of good size with ample space for both the 40-60 hp diesel and an auxiliary gen set.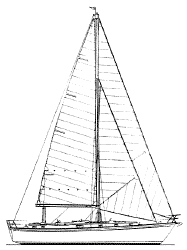 click drawing to see larger image
The tall cutter rig is easily handled. It spreads ample sail area to move her in a light breeze yet can be snugged down with a storm jib and trisail for gale conditions when necessary. The mast is keel stepped and strongly stayed with double spreaders and intermediate backstays that can be set up as running backstays if desired.
Study Plans: $ 120 US
Complete Plans: $1495 US
Study plans contain sufficient drawings to price out materials or obtain a professional bid; the cost of study plans is credited if complete plans are later ordered. Complete plans include rights to build one boat, plus reasonable consultation during construction.
---
---
Brewer Yacht Designs
1825 Evergreen Drive
Agassiz, BC
Canada VOM 1A3
Phone 604-796-3732 Fax 604-796-3738
brewer@island.net