ALBATROSS Specs

LOA---52' 9"
LWL---43' 0"
BEAM---14' 7"
DRAFT---6' 6"
BALLAST---16000 lbs.
SAIL AREA---1637 sq. ft.
DISPLACEMENT---61500 lbs.
DISPL/LENGTH RATIO---345
SA/DISPL RATIO---16.8
PRISMATIC COEFF---.55
CAPSIZE SCREENING FACTOR---1.48
TANKS---270 gals. Fuel, 270 gals. Water
ALBATROSS
A 53' Schooner for steel construction
Brewer Design #184
ALBATROSS was designed for a client who wanted a gaff rigged knockabout schooner suited for living aboard and with cargo holds that could double as a studio or be converted to guest cabins.
Her hull is a fully developed Y section with fine entry. Construction is of steel with closely spaced longitudinals on widely spaced athwartship frames.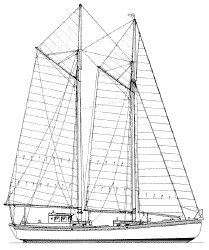 click drawing to see larger image
The large fuel tankage provides excellent range with an 80 hp diesel. The engine will push her along at good speeds thru the calms and will also drive a hydraulic pump to power her windlass, bow thruster, etc. An Edson Simplex wheel steerer is fitted at the outside helm and the inside helm will also be Edson, cable operated.
The spars are solid pine and spruce with galvanized plow steel and dacron rigging. There is ample sail area in the 4 lowers (1637 sq. ft.) to power her at a good speed and, in light air, ALBATROSS can spread over 2100 sq. ft. of sail with her topsails and fisherman.
The accommodations provide a pilot house aft with settee berth and nav station, a roomy owner's cabin with private head, and a crew/guest cabin forward plus a very complete galley and a large dinette area.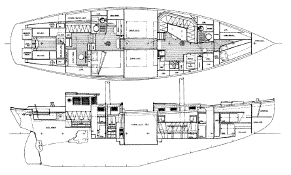 click drawing to see larger image
Each of the holds is large enough to convert to a guest cabin with either a double berth or upper/lower, as preferred.
In short, ALBATROSS is a both a rugged and versatile vessel. She is well suited to anyone who is looking for a small charter or cargo schooner with live-aboard comfort.
Study Plans: $100 US
Complete Plans: $2195 US
Study plans contain sufficient drawings to price out materials or obtain a professional bid; the cost of study plans is credited if complete plans are later ordered. Complete plans include rights to build one boat, plus reasonable consultation during construction.
---
---
Brewer Yacht Designs
1825 Evergreen Drive
Agassiz, BC
Canada VOM 1A3
Phone 604-796-3732 Fax 604-796-3738
brewer@island.net