ARAGOSA 35 Specs

LOA---34' 9"

LWL---28' 6"

BEAM---11' 3"

DRAFT--- 5' 4"

BALLAST---5,400 lbs.

SAIL AREA---631 sq. ft.

DISPLACEMENT---15,250 lbs.

DISPL/LENGTH RATIO---294

SA/DISPL RATIO---16.42

PRISMATIC COEFF---.54

CAPSIZE SCREENING FACTOR---1.81

TANKS---50 gals. Fuel, 100 gals. Water
ARAGOSA 35
A 35' Auxiliary Sloop for steel construction
Brewer Design #212
The ARAGOSA 35 follows her 38 sister and is of the same family of radius bilge steel hulled yachts designed for cruising comfort and performance. The hull shape closely resembles a round bilge hull but is much simpler to build.
Construction is solid with closely spaced longitudinal stringers on widely spaced athwartship frames, forming a strong grid to resist collisions or grounding. Many similar boats to our designs have been successfully built by both small shops and amateur builders.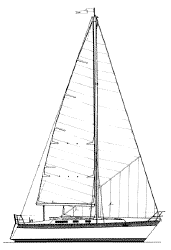 click drawing to see larger image
The accommodations of the 35 offer ample room for the cruising family or for a couple with guests. Storage is generous and the necessities, such as a roomy head, a wet locker and a good navigation area, have not been forgotten.
The spacious U shaped galley features a deep double sink, large ice box (or refrigerator) and ample stowage for dishes and supplies. A fixed, dropleaf cabin table has good seating for the crew and additional storage for cutlery, condiments, etc.
The deep cockpit gives good protection to the crew in adverse weather and wide side decks offer a safe working platform for sail changes.
Her tall sloop rig with inside chainplates provides drive for the long waterline hull. Below water, the NACA fin with end plates assures good windward ability, while generous beam, firm bilges and a solid ballast ratio supply the necessary stability so she can stand up to a good breeze.
All in all, the yachtsman looking for a good performing steel auxiliary cruiser would do well to consider the Aragosa 35.
This design is available for aluminum construction as well, with extended stern and other slight revisions.
Study Plans: $60 US
Complete Plans: $695 US
Study plans contain sufficient drawings to price out materials or obtain a professional bid; the cost of study plans is credited if complete plans are later ordered. Complete plans include rights to build one boat, plus reasonable consultation during construction.
---
---
Brewer Yacht Designs
1825 Evergreen Drive
Agassiz, BC
Canada VOM 1A3
Phone 604-796-3732 Fax 604-796-3738
brewer@island.net