ARDEN Specs

Steel

LOA---60' 7"
LWL---52' 6"
BEAM---14' 4"
DRAFT---5' 9"
BALLAST---16,000 lbs.
SAIL AREA---1,624 sq. ft.
DISPLACEMENT---57,600 lbs.
DISPL/LENGTH RATIO---177.7
SA/DISPL RATIO---17.42
PRISMATIC COEFF---.
CAPSIZE SCREENING FACTOR---1.58
TANKS---180 gals. Fuel, 220 gals. Water
ARDEN
A 60' Tern Schooner for aluminum or steel construction
Brewer Design #163
This unique design was originally designed for fibreglass as a light, shoal draught, easily handled 60 footer that would be suitable for live aboard or charter service. Twin bilge fins were selected to provide ease of careening in tidal waters for low cost maintenance, and to keep the draught shoal without the complexities of a centerboard.
The three masted "tern schooner" keeps sail areas small and handy, and all sails can be self tacking so that she is easily handled by a small crew. Sail area is generous and the 3 masted rig also allows for the setting of fisherman and mizzen staysails for those who must get the most out of their yacht in light airs or off-wind sailing. As well, the rig is well under 64 feet above water for bridge clearance.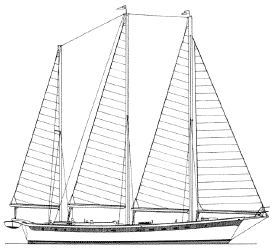 click drawing to see larger image


Below decks there are 3 double staterooms plus crew quarters, a large saloon with a 7-1/2' long settee to port and a 7' settee to starboard. The arrangement is completed by 2 heads, 2 stall showers, a spacious galley and generous stowage throughout. On deck, the "center" cockpit is 38 feet from the bow so will be dry and well protected and, with its 60 square feet of area, it is roomy enough to seat 6-8 comfortably. Flush decks assure an excellent working area for sail handling or for lounging and there is space for a good sized dinghy on deck, plus an inflatable hung from the "tail feathers".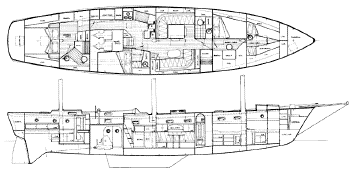 click drawing to see larger image
Power can be a single engine on the centerline or twin smaller diesels, as preferred by the owner, and cruising speeds of 10 knots are quite feasible due to her long waterline and moderate displacement.
Construction of the original design is of cored fiberglass but both steel and aluminum versions were commissioned later and these plans, with a radius bilge hull form, are available.
The ARDEN has proven to be a fast and easily handled cruiser and is an ideal yacht for charter work or a world girdling home afloat.
Study Plans: $120 US
Complete Plans - Steel: $2795 US
Study plans contain sufficient drawings to price out materials or obtain a professional bid; the cost of study plans is credited if complete plans are later ordered. Complete plans include rights to build one boat, plus reasonable consultation during construction.
---
---
Brewer Yacht Designs
1825 Evergreen Drive
Agassiz, BC
Canada VOM 1A3
Phone 604-796-3732 Fax 604-796-3738
brewer@island.net