MIAMI Specs

LOA---44' 11"
LWL---36' 8"
BEAM---13' 11"
DRAFT---6' 0"
BALLAST---13500 lbs.
SAIL AREA---1157 sq. ft.
DISPLACEMENT---36000 lbs.
DISPL/LENGTH RATIO---326
SA/DISPL RATIO---16.98
PRISMATIC COEFF---.542
CAPSIZE SCREENING FACTOR---1.69
TANKS---160 gals. Fuel, 200 gals. Water
MIAMI
A 45' Auxiliary Ketch for steel construction
Brewer Design #153
The MIAMI was a custom design for owners who wanted a flush deck, doghouse cruising ketch along traditional lines.
The hull is of steel construction using our radius bilge form first developed in the mid '70s for the successful GODERICH 35. This provides a hull closely akin to a pure round bilged hull; one without the added drag and turbulence that arises from chine hulls, yet also without the complexity of construction required by the fully developed round bilge hull.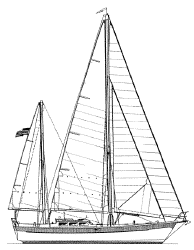 click photo to see larger image
There is nothing complex in her construction and similar yachts of our design have been built by both amateur builders and small professional shops without problem.
The layout was designed to provide very comfortable accommodations for 4 persons in 2 separate cabins plus room for occasional guests in the saloon. The MIAMI has all the amenities for full time life afloat; microwave oven, washer/dryer, air conditioning, 4.5 kw gen set, etc. plus generous stowage throughout and a useful workshop area.
Up top, the flush decks offer a safe working platform at sea and spacious lounging room when in harbour.
The full keel hull form assures a steady helm on those long ocean passages while the generous sail plan will provide excellent all around performance. The rig is strongly stayed with double spreaders and running backstays on the main mast and an independently stayed mizzen mast. The rig is quite tall and the mizzen area is on the low side for a ketch so windward ability is not unduly compromised yet the advantages of a split rig are still available; the ability to jog to weather under jib and mizzen in gusty weather, or set a mizzen staysail in light airs.
With her strong steel hull, uncrowded accommodations and efficient rig, the MIAMI will prove to be a comfortable and able long range cruiser, well suited to extended voyages or year round live-aboard use.
Study Plans: $95 US
Complete Plans: $1095 US
Study plans contain sufficient drawings to price out materials or obtain a professional bid; the cost of study plans is credited if complete plans are later ordered. Complete plans include rights to build one boat, plus reasonable consultation during construction.
---
---
Brewer Yacht Designs
1825 Evergreen Drive
Agassiz, BC
Canada VOM 1A3
Phone 604-796-3732 Fax 604-796-3738
brewer@island.net