NOMAD Specs

LOA---41' 10"
LWL---32' 6"
BEAM---12' 8"
DRAFT---5' 8"
BALLAST---9000 lbs.
SAIL AREA---899 sq. ft.
DISPLACEMENT---26000 lbs.
DISPL/LENGTH RATIO---338
SA/DISPL RATIO---16.4
PRISMATIC COEFF---.54
CAPSIZE SCREENING FACTOR---1.71
TANKS---120 gals. Fuel, 120 gals. Water
NOMAD
A 42' Pilothouse Cutter for steel construction
Brewer Design #204
NOMAD was designed for a couple with wide experience in offshore yachts. They wanted a comfortable live-aboard auxiliary for long range cruising and, in particular, a yacht that would be suitable for northern waters.
The steel hull is of our popular radius bilge construction for strength and the decks and superstructure can be of aluminum where maximum stability is desired. The use of aluminum saves 50% of the weight of a steel structure and lowers the center of gravity to improve stability compared to an all-steel yacht.
The accommodations were laid out to give maximum livability for the owners, with room for occasional guests. The pilot house settee converts to a double when desired to provide good privacy for 2 couples. Features such as the large wardrobe space,
roomy stall shower, workable galley and generous stowage throughout all add to livability and comfort aboard.
The rig is tall with a good sail area/displacement ratio for blue water cruising. The mast is well stayed with double spreaders, double lowers, inner forestay and running backstays. The latter will only be required in a stiff breeze but will add a great deal of security and prevent mast panting.
A long fin keel and skeg hung rudder assure directional stability and the prop is fitted in an aperture in the skeg for protection against pot warps, floating debris and ice.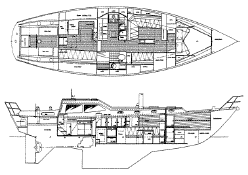 click drawing to see larger image
The design was beautifully built by Marine Metals in Virginia and has proven to be very successful. The owners have made several voyages to Newfoundland and Labrador, solid proof of the ability of their yacht to take the elements in her stride.
Study plans contain sufficient drawings to price out materials or obtain a professional bid; the cost of study plans is credited if complete plans are later ordered. Complete plans include rights to build one boat, plus reasonable consultation during construction.
---
---
Brewer Yacht Designs
1825 Evergreen Drive
Agassiz, BC
Canada VOM 1A3
Phone 604-796-3732 Fax 604-796-3738
brewer@island.net