VERITY Specs

LOA---40' 1"
LWL---33' 8"
BEAM--- 11' 9"
DRAFT---6' 0"
BALLAST---8250 lbs.
SAIL AREA---836 sq. ft.
DISPLACEMENT---22950 lbs.
DISPL/LENGTH RATIO---269
SA/DISPL RATIO---16.60
PRISMATIC COEFF---.549
CAPSIZE SCREENING FACTOR---1.65
TANKS---50 gals. Fuel, 120 gals. Water
VERITY
A 40' Auxiliary Cruiser for steel construction
Brewer Design #160
VERITY was designed as a fast cruiser for steel construction. Her framing system consists of closely spaced longitudinals on bulkhead framing but other framing systems may be used if preferred and we will be pleased to consult with the builder. The hull is round bilged, of course, using the radius bilge technique that we pioneered in the '70s. This has proven to be both aesthetically attractive and an aid to reduced turbulence on so many of our steel designs over the years.
With generous sail area, a NACA fin and a moderate displacement hull, VERITY has proven to be a fine all-round cruiser.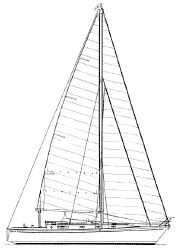 click drawing to see larger image
One of the yachts, built to this design on Vancouver Island, has made extensive cruises in the South Pacific in comfort and safety.
The tall mast is keel stepped for maximum strength and well supported by double spreaders, double lowers and runners. The double headsail sloop rig has proven to be efficient and easily handled by a husband and wife crew.
VERITY features a 5-6 berth, three cabin layout with such amenities as a stall shower, super large galley, ample stowage and good ventilation. As well, there is a good nav center and a U shaped dinette large enough for those wonderful in-port parties that always seem to happen at the end of a long passage. The 8 foot long, keyhole shaped cockpit offers a comfortable working and lounging area with good stowage in the lazarette and sail bins.
Combining the toughness of steel construction with the livability and performance of a modern fin keel auxiliary, VERITY will appeal to the skipper who plans to sail blue water and voyage to far off ports.
Study Plans: $90 US
Complete Plans: $995 US
Study plans contain sufficient drawings to price out materials or obtain a professional bid; the cost of study plans is credited if complete plans are later ordered. Complete plans include rights to build one boat, plus reasonable consultation during construction.
---
---
Brewer Yacht Designs
1825 Evergreen Drive
Agassiz, BC
Canada VOM 1A3
Phone 604-796-3732 Fax 604-796-3738
brewer@island.net