LUBEC Specs

LOA---25' 9"
LWL---22' 6"
BEAM---8' 9"
DRAFT---4' 1/2"
BALLAST---4600 lbs.
SAIL AREA---460 sq. ft.
DISPLACEMENT---11500 lbs.
DISPL/LENGTH RATIO---250
SA/DISPL RATIO---14.4
CAPSIZE SCREENING FACTOR---1.55
TANKS---20 gals. Fuel, 20 gals. Water
LUBEC BOAT
A 32' Eastport Pinky Sloop for wood construction
Brewer / Wallstrom Design #86
This design was done for Penobscot Boat Works who were building a similar 32' vessel called the Quoddy Pilot and wanted to offer a smaller yacht. The construction is similar to the methods used on their 32 footer and has stood up very well to years of hard sailing.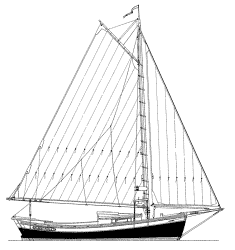 click drawing to see larger image
The LUBEC BOAT is designed primarily as a daysailer with comfortable cruising accommodations for a couple. The style is based on the inshore sardine fishing boats of Maine, craft that were noted for good speed, great carrying capacity and seaworthiness. Her heavy displacement assures an easy motion in a seaway and the owner of a modern, light displacement, fibreglass yacht would find her as steady as a half tide rock in comparison.
The sail area is large for a 26 footer but not out of keeping considering her very husky displacement. However, the center of effort is low and the self tending rig is simple to handle. The rig is also simple to set up and quite economical as it does not require expensive winches, roller furling gear or rig fittings.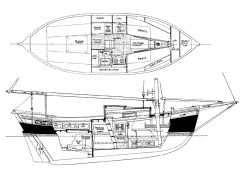 click drawing to see larger image
The strip planked construction will pose no problems to any competent woodworker. Those wanting less day sailing space and more cruising room can shorten the cockpit if desired to add the space to the interior.
The LUBEC BOAT is an unusual craft by modern standards but will certainly draw attention where ever she goes. Incidentally, Albert Hallet, the name on her stern, was a well known builder of the original working pinky sloops.
Study Plans: $60 US
Complete Plans: $450 US
Study plans contain sufficient drawings to price out materials or obtain a professional bid; the cost of study plans is credited if complete plans are later ordered. Complete plans include rights to build one boat, plus reasonable consultation during construction.
---
---
Brewer Yacht Designs
1825 Evergreen Drive
Agassiz, BC
Canada VOM 1A3
Phone 604-796-3732 Fax 604-796-3738
brewer@island.net