DEER ISLE 28 Specs

LOA---28' 2"
LWL---24' 8"
BEAM---9' 6"
DRAFT---1' 10"
DISPLACEMENT---6500 lbs.
DISPL/LENGTH RATIO---194
PRISMATIC COEFF---.728
TANKS---70 gals. Fuel, 20 gals. Water
DEER ISLE 28
A 28' Versatile Motor Boat
Brewer Design #26
The DEER ISLE 28 was designed to offer the amateur builder or professional fisherman an economical vessel with straight forward construction and excellent sea-keeping ability. The plans include lobster boat, sport fisherman and center cockpit
cruiser versions and the boat can be built as a general workboat or yard tender as well. This versatile boat has been used as a hunting camp tender in Alaska, a lobster boat in Massachusetts and a sport fisherman in Mexico!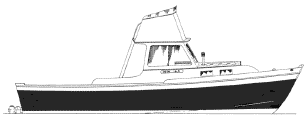 click drawing to see larger image
The hull is a single chine shape with steep deadrise where the hull meets the waves at speed and has proven to be both fast and soft riding in a chop.
Construction is of plywood planking with 5/8" topsides and 3/4", 3 layer bottom on longitudinal framing and is ideal for the home builder or small shop. Fastenings are bronze bolts, drifts and Anchorfast nails.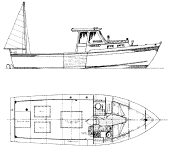 click drawing to see larger image
Power can be by single or twin outdrives, a conventional inboard engine or outboard power. Indeed, one heavily built workboat, powered by a single 200 hp outboard, ran from Washington state to Alaska at an average of 20 knots despite chop and rip tides, and had a top speed of over 25 knots. This vessel is now used to take drums of fuel, food and other supplies to hunting and fishing camp barges along the Alaskan coast.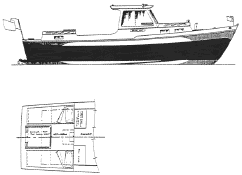 click drawing to see larger image
The workboat and sport fisherman versions provide weekend accommodations for 2 plus a small head and galley. The cruiser version features an aft cabin with 2 additional berths and makes a perfect craft for a family.
Either version will provide a fast, able, inexpensive and simple-to-build hull and one that will earn her keep over and over in utility and pleasure.
Study Plans: $60 US
Complete Plans: $395 US
Study plans contain sufficient drawings to price out materials or obtain a professional bid; the cost of study plans is credited if complete plans are later ordered. Complete plans include rights to build one boat, plus reasonable consultation during construction.
---
---
Brewer Yacht Designs
1825 Evergreen Drive
Agassiz, BC
Canada VOM 1A3
Phone 604-796-3732 Fax 604-796-3738
brewer@island.net