GRAND BANKS 33 Specs

LOA---32' 9"
LWL---30' 8"
DRAFT---3' 9"
BEAM---10' 0"
DISPLACEMENT---20100 lbs.
DISPL/LENGTH---RATIO 357
PRISMATIC COEFF---.62
FUEL TANKS---250 gals
GRAND BANKS 33
A Blue Water Motor Cruiser
Brewer Design #23
The GRAND BANKS 33 is a husky offshore cruiser suitable for extended blue water voyages in both southern or northern waters. Her economical diesel engine gives her a cruising range of 500 miles for her 250 gal tankage.
The design is based on a husky northwest trawler hull and these vessels are not limited to short dashes from port to port in good weather. A boat of this type can go out where there is plenty of ocean and run night and day if required, churning 150-200 miles under her transom every 24 hours.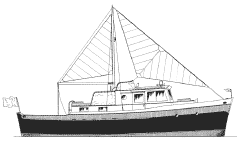 click drawing to see larger image
They are ideal for living aboard for long periods, or permanently if desired.
The GRAND BANK 33's construction is staunch, in keeping with her type, but has been developed with simplicity in mind so that the small yard or competent amateur build will have no difficult problems. Bulkhead framing is used to eliminate the need for steam bending of frames and the planking is of glued and edge nailed strip construction. It can be Vectra or Dynel covered for minimum maintenance. Decks are laid white pine and left bare for good footing on wet days.
Power is by any husky diesel in the 50-90 hp range and we recommend a reliable, slow turning engine for long life and minimal problems. Leave the turbo-chargers to the inshore, high speed crowd.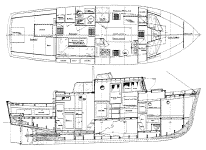 click drawing to see larger image
The small steadying rig will reduce rolling in beam seas, and enable her to get to a downwind port in case of engine trouble. The boom is long enough to hoist the dinghy aboard so the dink can be stored in the cockpit during long offshore passages.
The interior provides a wide vee berth forward, a roomy pilot house with galley, nav area and room for occasional seating, plus an L-shaped dinette aft that converts to a double berth. There is good storage space throughout, as is essential on a long range voyage. The aft cockpit is quite large for sport fishing, etc. but could be shortened several feet if more interior space was desired.
Study Plans: $75 US
Complete Plans: $550 US
Study plans contain sufficient drawings to price out materials or obtain a professional bid; the cost of study plans is credited if complete plans are later ordered. Complete plans include rights to build one boat, plus reasonable consultation during construction.
---
---
Brewer Yacht Designs
1825 Evergreen Drive
Agassiz, BC
Canada VOM 1A3
Phone 604-796-3732 Fax 604-796-3738
brewer@island.net