MERCURY Specs

LOA---27' 6"
LWL---24' 0"
BEAM---10' 0"
DRAFT---2' 2"
DISPLACEMENT---5500 lbs
DISPL/LENGTH RATIO---177.6
PRISMATIC COEFF---.70
FUEL TANKS--- 80 gals
MERCURY
A 27' Express Cruiser
Brewer Design #58-8
Over a dozen of these fast cruisers have been built and owners have been enthusiastic about her excellent speeds and soft riding characteristics in a choppy sea. MERCURY was designed originally for an amateur builder and has proven to be a very popular design for the builder who is looking for a fast family cruiser in this size range.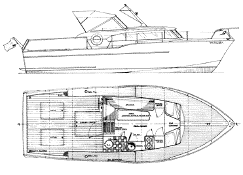 click either drawing to see larger image
Construction calls for seam batten mahogany or cedar planking on the topsides and a 2 or 3 layer bottom laminated of plywood. The bottom shape takes plywood very well and is virtually non-pounding at all reasonable speeds. The overall structure is quite straightforward but very strong. Keel and frames can be oak, fir or other strong woods and the fastenings are bronze. There is nothing in the construction that is beyond the ability of a competent amateur builder or small shop and, indeed, the first of the MERCURYs was designed for and built by a young man, only 22 years old.
Single or twin engines to 300 hp are optional and may be stern drive units or conventional inboard setups. Speeds of 18 knots can be attained with a single 125 hp. engine and twin engines will give speeds in the 30 knot range.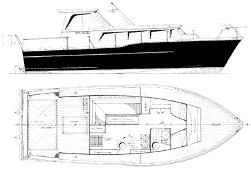 click either drawing to see larger image
MERCURY can be built with either of 2 accommodation plans. Both offer 2 forward berths, a comfortable L-shaped settee that converts to a double berth, a complete galley, enclosed head and good storage space. One layout has a bit more interior room, the other a larger cockpit, so the builder can take his choice. Either version provides wide walk-around decks, comfortable cruising for a small family and ample space for relaxing and enjoying life on the water.
Study Plans: $50 US
Complete Plans: $295 US
Study plans contain sufficient drawings to price out materials or obtain a professional bid; the cost of study plans is credited if complete plans are later ordered. Complete plans include rights to build one boat, plus reasonable consultation during construction.
---
---
Brewer Yacht Designs
1825 Evergreen Drive
Agassiz, BC
Canada VOM 1A3
Phone 604-796-3732 Fax 604-796-3738
brewer@island.net