ICHIBAN Specs

LOA---32' 11"
LWL---28' 0"
BEAM---10' 10"
DRAFT--- 5' 0"
BALLAST---5100 lbs.
SAIL AREA---658 sq. ft.
DISPLACEMENT---13250 lbs.
DISPL/LENGTH RATIO---269
SA/DISPL RATIO--- 18.8
PRISMATIC COEFF---.56
CAPSIZE SCREENING FACTOR---1.83
TANKS---40 gals. Fuel, 80 gals. Water
ICHIBAN
A 33' Aluminum Junk Rig
Brewer Design #154
ICHIBAN is a custom yacht and was designed as a permanent retirement home for a couple with occasional guests.
Her radius bilge aluminum hull is strong and requires only low maintenance, ideal for a retired couple. The fin keel/skeg rudder underbody reduces wetted surface and contributes to good light air performance and an easy helm.
The accommodations are comfortable and homelike, as befits a live-aboard yacht. As well, she has very generous stowage for a vessel of her size and this is essential for a full time retirement home afloat.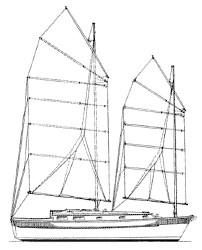 click drawing to see larger image
The unusual rig spreads generous sail area yet it is very easily handled. Setting sail, reefing and tacking are all simplified with the fully battened junk rig so she can be single handed with ease when required. Her owner reports that she performs very well indeed and, though she might give away a point to windward, ICHIBAN makes up for it in off wind speed and the ease of tacking.
All in all, ICHIBAN is worth consideration as she is one couple's answer to long term voyaging and they gave a great deal of thought to their needs. They have voyaged to Central America and the Caribbean with no problems and still find that the rig and general design suits their needs to perfection.
Study Plans: $50 US
Complete Plans: $450 US
Study plans contain sufficient drawings to price out materials or obtain a professional bid; the cost of study plans is credited if complete plans are later ordered. Complete plans include rights to build one boat, plus reasonable consultation during construction.
---
---
Brewer Yacht Designs
1825 Evergreen Drive
Agassiz, BC
Canada VOM 1A3
Phone 604-796-3732 Fax 604-796-3738
brewer@island.net