MILLIE J Specs

LOA---34' 10
LWL---29' 5"
BEAM---11' 4"
DRAFT--- 5' 3"
BALLAST---6700 lbs.
SAIL AREA---634 sq. ft.
DISPLACEMENT---16350 lbs.
DISPL/LENGTH RATIO---287
SA/DISPL RATIO---15.8
PRISMATIC COEFF---.54
CAPSIZE SCREENING FACTOR---1.79
TANKS---65 gals. Fuel, 100 gals. Water
MILLIE J
A 35' Auxiliary Cruiser
Brewer Design #267

MILLIE J is an aluminum auxiliary cutter, custom designed for a very knowledgeable US couple who plan extensive blue water cruising. The arrangement was designed to accommodate two persons in comfort and two guests can be bedded down on the saloon settees when desired. Features such as the diesel cabin heater, the U shaped galley, the spacious head and the permanent dodger assure convenience and comfort at sea. There is generous stowage throughout as well, from the extra large forepeak to the deep cockpit sail bins, as is necessary on an ocean going yacht.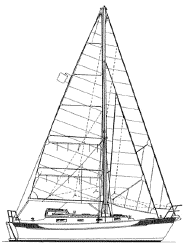 click drawing to see larger image
The aluminum hull is designed to our popular radius bilge form that has been well proven on previous world girdling yachts. MILLIE J's lateral plane consists of a moderately long fin connected to a skeg hung outboard rudder by a ventral fin. This provides good directional stability as well as protection to the prop from pot warps and debris, and protection to the prop shaft when the yacht is lifted by slings.
MILLIE J's construction consists of moderately widely spaced frames with closely spaced longitudinals and will prove to be very strong indeed. 5000 series aluminum alloy is used for her plating and is so corrosion resistant that it does not need to be painted to protect it.
The double headsail rig spreads good area for ocean or coastal voyaging. The mast is keel stepped for maximum strength and is strongly stayed with double spreaders, twin backstays and running backstays. Simplicity has been the keynote of the rig and seagoing features include outside halyards, double ended mainsheet, hanked on headsails, lazyjacks, and a fully battened main.
Auxiliary power is by a 40 hp diesel and the 65 gallon tankage will provide a wide cruising radius at close to hull speed.
All in all, MILLIE J will prove to be a comfortable and good performing cruiser, well suited to both offshore waters and trans-ocean voyaging.
Study Plans: $60 US
Complete Plans: $695 US
Study plans contain sufficient drawings to price out materials or obtain a professional bid; the cost of study plans is credited if complete plans are later ordered. Complete plans include rights to build one boat, plus reasonable consultation during construction.
---
---
Brewer Yacht Designs
1825 Evergreen Drive
Agassiz, BC
Canada VOM 1A3
Phone 604-796-3732 Fax 604-796-3738
brewer@island.net