ARAGOSA 38 Specs

LOA---38' 1"
LWL---31' 3"
BEAM---12' 5"
DRAFT---6' 0"
BALLAST---7000 lbs.
SAIL AREA---756 sq. ft.
DISPLACEMENT---19700 lbs.
DISPL/LENGTH RATIO---288
SA/DISPL RATIO---16.6
PRISMATIC COEFF---.544
CAPSIZE SCREENING FACTOR---1.84
TANKS---45 gals. Fuel, 160 gals. Water
ARAGOSA 38
A 38' Auxiliary Sloop for steel construction
Brewer Design #198
The ARAGOSA 38 is a handsome modern radius bilge steel yacht designed to perform well in a wide variety of conditions and to provide her crew with comfortable accommodations for extended cruising, both coastwise and in trans-ocean voyages.
The fin keel hull has a high aspect ratio skeg hung rudder for good directional stability and control. The radius bilge shape so closely resembles a fully developed round bilge hull that there is virtually no difference as far as performance or aesthetics are concerned.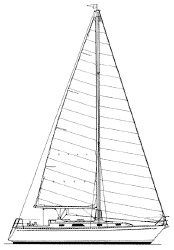 click drawing to see larger image
The steel construction consists of closely spaced longitudinal stringers on widely spaced angle steel athwartship frames. This provides solid strength along with moderately light weight yet the construction is well within the ability of a small shop or a competent amateur builder.
The rig is tall and spreads ample sail area for light wind conditions. The keel stepped mast is strongly supported by double spreaders and double lower shrouds and the chainplates are inboard to allow close sheeting for windward work. A double headsail rig can be provided for those who prefer it for offshore work.
The 38's layout is not cramped with unnecessary berths. She provides berths for a couple and 3 guests, but she is designed to provide the amenities that are so necessary for extended voyaging and even full time life aboard. These include a stall shower, book case, cabin heater, separate navigator's seat, U shaped galley, and very generous stowage throughout. Ventilation is suited for tropic waters with 4 cowl vents, 6 opening ports and 2 skylight/hatches.
In sum, the ARAGOSA 38 is a modern, fast steel cruiser that offers strength, performance, comfort and safety for her lucky owner and guests.
Study Plans: $95 US
Complete Plans: $895 US
Study plans contain sufficient drawings to price out materials or obtain a professional bid; the cost of study plans is credited if complete plans are later ordered. Complete plans include rights to build one boat, plus reasonable consultation during construction.
---
---
Brewer Yacht Designs
1825 Evergreen Drive
Agassiz, BC
Canada VOM 1A3
Phone 604-796-3732 Fax 604-796-3738
brewer@island.net