CARIOCA Specs

LOA---39' 6"
LWL---30' 9"
BEAM---11' 10"
DRAFT---5' 0"
BALLAST---7000 lbs.
SAIL AREA---806 sq. ft.
DISPLACEMENT---20,500 lbs.
DISPL/LENGTH RATIO---315
SA/DISPL RATIO---17.2
PRISMATIC COEFF---.545
CAPSIZE SCREENING FACTOR---1.73
TANKS---85 gals. Fuel, 125 gals. Water
CARIOCA
A 40' Cutter for steel construction
Brewer Design #180
CARIOCA is a husky steel cutter designed for serious blue water cruising. Her hull is of the attractive radius bilge type and features a long keel with "Brewer bite" to assure a steady helm in adverse conditions. Construction is of .14" plate with closely spaced longitudinal stringers supported by widely spaced frames. The radius bilge hull is well within the ability of the small shop and many designs of this type have been successfully built by amateurs.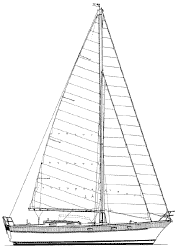 click drawing to see larger image
The inboard cutter sail plan spreads generous area to move her along in light airs but can be swiftly snugged down for a serious blow. The rig is strong and its keel stepped mast is well stayed with double spreaders and running backstays. Sail handling is eased by the wide, flush decks, of course, while the deep cockpit provides security in heavy going.
When the breeze fails completely a 25-35 hp diesel will move her along and the 85 gallons of fuel gives her a wide cruising radius. There is ample space for pumps and other machinery with good access under the cockpit and galley sole.
The accommodations are laid out for live-aboard use and extended voyaging by a cruising couple. There is ample space for occasional guests but the emphasis is on stowage and comfort rather than the number of berths. The wrap around galley provided everything that a seagoing chef could desire while the spacious saloon will prove very comfortable for relaxing or entertaining and the navigator will be pleased by the roomy chart table.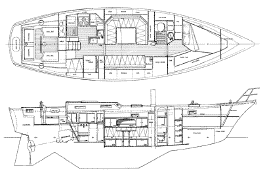 click drawing to see larger image
CARIOCA is a good choice for the long range cruising couple as she provides a comfortable open layout with an easily handled cutter rig and tough steel construction. The combination is hard to beat for serious ocean voyaging.
Study Plans: $90 US
Complete Plans: $895 US
Study plans contain sufficient drawings to price out materials or obtain a professional bid; the cost of study plans is credited if complete plans are later ordered. Complete plans include rights to build one boat, plus reasonable consultation during construction.
---
---
Brewer Yacht Designs
1825 Evergreen Drive
Agassiz, BC
Canada VOM 1A3
Phone 604-796-3732 Fax 604-796-3738
brewer@island.net