CANYON Specs

LOA---43' 6"
LWL---35' 9"
BEAM---14' 0"
DRAFT---6' 0"
BALLAST---11500 lbs.
SAIL AREA---1069 sq. ft.
DISPLACEMENT---32250 lbs.
DISPL/LENGTH RATIO---315
SA/DISPL RATIO---16.9
PRISMATIC COEFF---.548
CAPSIZE SCREENING FACTOR---1.76
TANKS---160 gals, Fuel, 160 gals. Water
CANYON
A 43' Pilothouse Cutter for steel construction
Brewer Design #187
The CANYON is a husky, steel pilot house cutter designed to provide a "go-anywhere" auxiliary with particular attention to comfortable live-aboard accommodations for a couple or small family. Two private staterooms plus a convertible double berth in the pilot house provide excellent privacy.
The galley has good work space, generous stowage and complete facilities for gourmet meals afloat. It is open to the wide and comfortable saloon and this gives a great feeling of roominess below.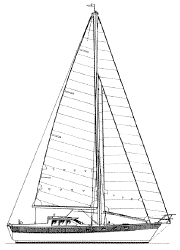 click drawing to see larger image
A 50 hp diesel gives easy 7 knot speeds and, combined with large tankage, offers a wide cruising radius under power. The engine space gives ample room for an auxiliary generator set along with all the other equipment normal to a fine yacht. Large hatches provide excellent access for maintenance and repair.
The hull form of the CANYON is the radius bilge type that has caught on widely since we pioneered it in the early '70s.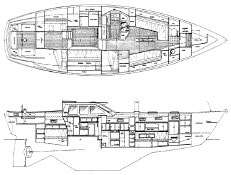 click drawing to see larger image
Her modern, beamy hull has firm bilges for excellent form stability and her underwater profile is of the semi-fin with skeg rudder which assures good directional stability and allows the prop to be well protected from debris, logs and pot warps.
The cutter rig spreads good sail area for light airs and is strongly stayed with double spreaders and double lowers. The intermediate backstays are rigged so they can be used as runners in heavy weather to further strengthen the spar.
The first CANYON has cruised widely in the Pacific and the design offers good performance in a tough metal hull that will take you out and bring you back in safety and comfort.
Study Plans: $95 US
Complete Plans: $1095 US
Study plans contain sufficient drawings to price out materials or obtain a professional bid; the cost of study plans is credited if complete plans are later ordered. Complete plans include rights to build one boat, plus reasonable consultation during construction.
---
---
Brewer Yacht Designs
1825 Evergreen Drive
Agassiz, BC
Canada VOM 1A3
Phone 604-796-3732 Fax 604-796-3738
brewer@island.net