CAPE RACE Specs

LOA---44' 1"
LWL--37' 4"
BEAM---14' 2"
DRAFT---5' 0"
BALLAST---7500 lbs.
SAIL AREA---799 sq. ft.
DISPLACEMENT---40200 lbs.
DISPL/LENGTH RATIO---345
SA/DISPL RATIO---10.9
PRISMATIC COEFF---.558
CAPSIZE SCREENING FACTOR---1.65
TANKS---200 gals. Fuel, 300 gals. Water
CAPE RACE
A 44' Motorsailer for steel construction
Brewer Design #53
CAPE RACE is a husky motorsailer of steel construction, designed for year round live-aboard usage and long distance, blue water cruising. The yacht was designed as a pure round bilged hull but a simpler double chine hull form is also available.
Her accommodation plan is worthy of study as it features accommodations for 6-7 in three separate staterooms, each with its own head and shower. There is generous stowage space throughout and ample tankage for extended voyages.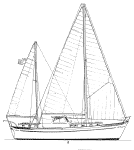 click photo to see larger image
Comfort is assured by the well sheltered helm station, 7kw generator set, air conditioning, deep freeze, electric refrigeration, warm air heating and many other amenities.
The ketch rig is simple and easily handled with its roller furling jib. The mast are mounted in tabernacles for ease of lowering as the original boat built to this design was used extensively in the canals in Europe. Although the sail area is quite moderate the CAPE RACE performs well under sail in a decent breeze and the owner of ZIG ZAG, the first yacht built to this design, reported that she was surprisingly fast and comfortable.
click photos to see larger image
Auxiliary power is by a diesel of 70-80 hp for economical cruising in the 7-8 knot range. The engine compartment is quite spacious and affords room for all the necessary machinery without crowding.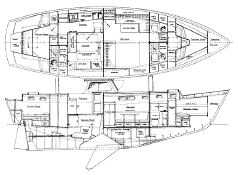 click drawing to see larger image
ZIG ZAG was well named. She has cruised the Baltic, the Mediterranean, the canals of Europe, the Danube, the Black Sea, crossed the Atlantic, cruised the Caribbean, the east coast to Nova Scotia, the Great Lakes, the Mississippi River, the Gulf of Mexico, the Panama canal and the west coast of North America. She was truly well named!
Study Plans: $95 US
Complete Plans: $1095 US
Study plans contain sufficient drawings to price out materials or obtain a professional bid; the cost of study plans is credited if complete plans are later ordered. Complete plans include rights to build one boat, plus reasonable consultation during construction.
---
---
Brewer Yacht Designs
1825 Evergreen Drive
Agassiz, BC
Canada VOM 1A3
Phone 604-796-3732 Fax 604-796-3738
brewer@island.net