KAIULANI 34 Specs

LOA---33' 11"

LWL---27' 8"
BEAM---11' 1"
DRAFT---4' 9"
BALLAST---5250 lbs.
SAIL AREA---640 sq. ft.
DISPLACEMENT---15500 lbs.
DISPL/LENGTH RATIO---327
SA/DISPL RATIO---16.5
PRISMATIC COEFF---.549
CAPSIZE SCREENING FACTOR---1.78
TANKS---40 gals. Fuel, 80 gals. Water
KAIULANI 34
A 34' Auxiliary Cutter for steel construction
Brewer Design #181
The KAIULANI 34 is a smaller sister to the KAIULANI 38 and both of these full keel yachts are of round bilge steel construction using the radius bilge hull shape that I developed and pioneered back in the 1970s. Construction is conventional for a metal hull with closely spaced longitudinals on widely spaced athwartship angle frames. This assures a fair hull, and a strong one, yet is within the ability of a competent amateur builder.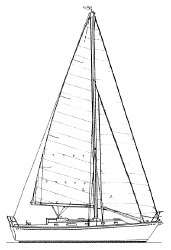 click drawing to see larger image
The full keel lateral plane features a "Brewer bite" ahead of the rudder to aid maneuverability and it also assures good directional stability.
The 34's accommodations provide 3 vee berths, a seagoing pilot berth and 2 settee berths, a very workable U shaped galley, a complete navigation center and a deep wet locker. The roomy head is unusual for a vessel of this size in that it provides a separate stall shower for the utmost in convenience. There is generous stowage throughout as is essential for long range voyaging.
The tall rig is that of a double headsail sloop and the staysail is self tending on a club. The sail area is generous and assures good performance even in light airs. The keel stepped mast is strongly stayed with double spreaders, double lower shrouds, and intermediate running backstays, a sign of a true blue water cruiser.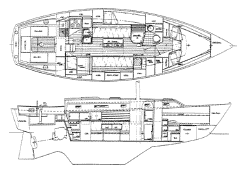 click drawing to see larger image
The KAIULANI 34, in sum, is a strong steel auxiliary that is equally well suited to coastal voyaging or trans-ocean passages. She will accommodate a couple or a small family in comfort, take them wherever the winds blow, and bring them back in safety.
Study Plans: $60 US
Complete Plans: $695 US
Study plans contain sufficient drawings to price out materials or obtain a professional bid; the cost of study plans is credited if complete plans are later ordered. Complete plans include rights to build one boat, plus reasonable consultation during construction.
---
---
Brewer Yacht Designs
1825 Evergreen Drive
Agassiz, BC
Canada VOM 1A3
Phone 604-796-3732 Fax 604-796-3738
brewer@island.net