KAIULANI 38 Specs

LOA---38" 0"
LWL---31' 4"
BEAM---11' 10"
DRAFT--- 5' 0"
BALLAST---7400 lbs.
SAIL AREA---748 sq. ft.
DISPLACEMENT---20500 lbs.
DISPL/LENGTH RATIO---297
SA/DISPL RATIO---16.0
PRISMATIC COEFF---.549
CAPSIZE SCREENING FACTOR---1.73
TANKS---60 gals. Fuel, 120 gals. Water
KAIULANI 38
A 38' Auxiliary Cutter for steel construction
Brewer Design #161
This seagoing steel cutter was designed for our radius bilge construction technique using large radius plates along the chines. The form has proven to be aesthetically attractive as well as an aid to reduced turbulence. The full keel hull as well as the deck construction is of closely spaced longitudinals on widely spaced athwartship angle frames. This ensures a fair and stiff hull surface along with high strength and moderate weight.
The arrangement provides privacy in two double berth cabins and the saloon area offers a secure pilot berth as well as two settee berths.
The head is large and features a separate stall shower while the galley is unusually spacious and convenient with good working surfaces for the seagoing chef. A large chart table is fitted abaft the galley and provides all the space necessary for the navigator.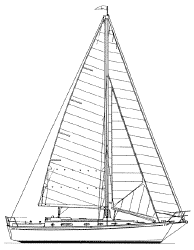 click drawing to see larger image
Superb ventilation is assured by ten opening ports, six dorade vents and three skylight/hatches. Wide side decks offer a safe working platform and the roomy cockpit is deep for security in heavy going.
The cutter rig has a self tending staysail and the keel stepped mast is strongly supported by a double spreader rig with double lowers and intermediate backstays/runners. The rig spreads ample area for both coastwise cruising and blue water voyages. Indeed, one KAIULANI 38 has successfully circumnavigated the globe.
All in all, the 38 will appeal to the sailor with distant ports in mind. She will take you out in style, get you there in comfort, and bring you and yours back in safety.
Study Plans: $90 US
Complete Plans: $895 US
Study plans contain sufficient drawings to price out materials or obtain a professional bid; the cost of study plans is credited if complete plans are later ordered. Complete plans include rights to build one boat, plus reasonable consultation during construction.
---
---
Brewer Yacht Designs
1825 Evergreen Drive
Agassiz, BC
Canada VOM 1A3
Phone 604-796-3732 Fax 604-796-3738
brewer@island.net