KINGSLAND Specs

LOA---45' 3"
LWL---36' 8"
BEAM---14' 0"
DRAFT---6' 0"
BALLAST---15000 lbs.
SAIL AREA---1159 sq. ft.
DISPLACEMENT---40000 lbs.
DISPL/LENGTH RATIO---362
SA/DISPL RATIO---15.9
PRISMATIC COEFF---.545
CAPSIZE SCREENING FACTOR---1.64
TANKS---240 gals. Fuel, 345 gals. Water
KINGSLAND
A 45' Auxiliary Cutter for steel construction
Brewer Design #134
KINGSLAND is a husky, radius bilge, full keel cutter that was originally designed as a double ender with round cruiser stern. However, a counter stern version is also available for those who prefer this type and is somewhat simpler to build. Construction is of steel with closely spaced longitudinals on widely spaced athwartship frames and is well within the ability of a small shop or a skilled amateur metal worker. Indeed, one KINGSLAND was built by a retired doctor, working almost completely alone.
With generous beam, good ballast ratio and large tankage all below the waterline the KINGSLAND is a powerful boat and will stand up to a breeze.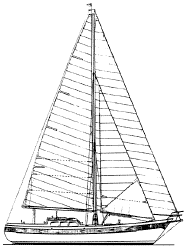 click drawing to see larger image
The rig is conventional cutter and is strongly set up with keel stepped mast and double spreaders. Intermediate backstays are fitted and the knowledgeable seaman can set these up as runners for extra security in heavy weather and the extra forestay tension they provide. The boat is a good performer and in a nice reaching breeze one of them was able to handily outrun my 30' fin keel yawl, although I had all sail set and the engine going at a strong clip.
fiberglass sisterships

click photos to see larger image
The accommodations provide 3 separate sleeping areas with a double berth forward, 2 single berths in the saloon and a convertible double in the pilot house. Too, the spacious workshop on the KINGSLAND can be made into a roomy double cabin if preferred. The galley is quite complete and the large, central head features a separate stall shower. There is generous storage throughout and a complete nav area, as befits a real blue water cruiser.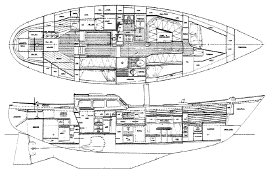 click drawing to see larger image
Flush decks offer a solid working platform and the ten foot long cockpit will be appreciated in port when an awning can be hung to provide a shady spot for relaxation.
There is no doubt that KINGSLAND is a big boat for her length, a true ocean voyager that will be at home on any of the seven seas, from the tropics to the arctic. She will carry you wherever you want to sail, in safety and comfort.
Study Plans: $100 US
Complete Plans: $1295 US
Study plans contain sufficient drawings to price out materials or obtain a professional bid; the cost of study plans is credited if complete plans are later ordered. Complete plans include rights to build one boat, plus reasonable consultation during construction.
---
---
Brewer Yacht Designs
1825 Evergreen Drive
Agassiz, BC
Canada VOM 1A3
Phone 604-796-3732 Fax 604-796-3738
brewer@island.net