PUFFIN Specs

LOA---36' 5" or 38'
LWL---33' 11"
BEAM---12' 1"
DRAFT---4' 0"
BALLAST---9000 lbs.
SAIL AREA---771 sq. ft.
DISPLACEMENT---25500 lbs.
DISPL/LENGTH RATIO---292
SA/DISPL RATIO---14.24
PRISMATIC COEFF---.532
CAPSIZE SCREENING FACTOR---1.64
TANKS---230 gals fuel, 130 gals water
PUFFIN
A 36' or 38' Motor Sailer for steel construction
Brewer Design #191
PUFFIN is, unabashedly, a motor sailer with the accent on sail; a true 60/40. Her shoal draft is achieved with twin bilge fins, hydrodynamically shaped, which let her sit upright on a falling tide for easy bottom maintenance and which provide very effective lateral plane so that she sails to windward surprising well.
A husky diesel engine of 50-90 hp will move her to good speeds under power and her large fuel tankage assures a wide cruising radius.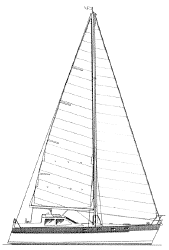 click drawing to see larger image
The accommodations provide a roomy owner's stateroom forward, a large saloon for entertaining and live-aboard relaxing and a galley suited to a gourmet chef. The wheelhouse assures steering comfort in inclement weather and also forms a guest cabin with a double berth, plus a complete nav area.
Construction plans are offered for both steel and aluminum as preferred and the hull may be of radius bilge or a simpler double chine type to suit the builder's preferences. The radius bilge form provides the aesthetics of a full round bilge hull and has been successfully built by both small shops and amateur builders.
The first yacht built to this design has cruised the west coast from Desolation Sound, Canada to Mexico several times, transited the Panama Canal and crossed the Gulf to the Caribbean. She is a true blue water cruiser.
PUFFIN is not a racing yacht, of course, but she does perform well under sail and her husky diesel enables you to maintain a schedule despite calms or adverse winds. With her engine ticking over at a fast idle a good motor sailer will beat to windward incredibly well, out pointing and out footing pure racing yachts of her size. It's a great way to cruise!
Study Plans: $85 US
Complete Plans: $895 US
Study plans contain sufficient drawings to price out materials or obtain a professional bid; the cost of study plans is credited if complete plans are later ordered. Complete plans include rights to build one boat, plus reasonable consultation during construction.
---