CHAPPIQUIDDICK Specs

LOA---25' 3"
LWL---24' 0"
BEAM---12' 0"
DRAFT---3' 0" board up
BALLAST---2,000 lbs.
SAIL AREA---522 sq. ft.
DISPLACEMENT---10,100 lbs.
DISPL/LENGTH RATIO---326
SA/DISPL RATIO---17.9
PRISMATIC COEFF---.557
CAPSIZE SCREENING FACTOR---2.22
TANKS---25 gals fuel, 25 gals water
CHAPPIQUIDDICK
A 25' Cape Cod catboat for wood construction
Brewer / Wallstrom Design #48
The CHAPPIQUIDDICK is available as a traditional round bilge Cape Cod catboat with carvel planking on steam bent framing, or as a double chine hull for plywood planking. The double chine hull shape closely resembles the round bilge hull and will perform similarly. Both boats are heavy and solidly built and provide a stiff sailing platform with tremendous stability for their size.
The accommodation plan offers two upper berths and two extension settee berths in a cabin with 5'9" of headroom.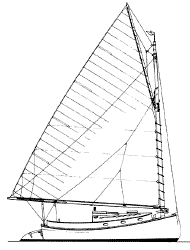 click drawing to see larger image
There is a complete galley with coal or diesel stove, an enclosed head and generous stowage space throughout. The cockpit is very much traditional catboat; room enough to hold a dance, deep and comfortable.
The rig is traditional catboat with unstayed solid spruce or pine mast. The sail plan spreads good area for light weather and has three deep reefs so she can be shortened down for a gale if need be.
To move her in the zephyrs, the auxiliary engine can be any small diesel in the 10-30 hp range for cruising speeds of 5-6 knots. Her 25 gallon fuel tank is ample to provide her with a large cruising radius under power.
Catboats such as CHAPPIQUIDDICK were commonly used on Cape Cod at the turn of the century for commercial fishing on banks as far as 50 miles offshore. They were handled by a man and a boy as a rule and were noted for their seaworthiness. In summer, many were converted to picnic boats and were hired out to take parties of vacationers for cruises along the coast.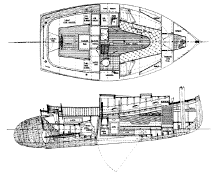 click drawing to see larger image
The catboat makes a delightful daysailer due to its versatility for partying or fishing, while boats as large as this design also perform very well as cruising yachts.
CHAPPIQUIDDICK is one of the largest stock catboat plans available and the connoisseur of these versatile craft will appreciate the amount of thought that has gone into this design.
Study Plans: $65 US
Complete Plans: $450 US
Study plans contain sufficient drawings to price out materials or obtain a professional bid; the cost of study plans is credited if complete plans are later ordered. Complete plans include rights to build one boat, plus reasonable consultation during construction.
---
---
Brewer Yacht Designs
1825 Evergreen Drive
Agassiz, BC
Canada VOM 1A3
Phone 604-796-3732 Fax 604-796-3738
brewer@island.net